What friendlier way to launch the VVX than a lively meal at the heart of the town of Volvic?
Perfect for immersing yourselves in the town's abundant heritage, from the volcanoes just a stone's throw away to the ever-present stone architecture and the Volvic water at your fingertips!
Perfect for getting to know the residents, the participants, the volunteers and the entire VVX organisation.
Perfect for enjoying a good meal in a lively atmosphere!
Bon appétit!
---
PO BOY'S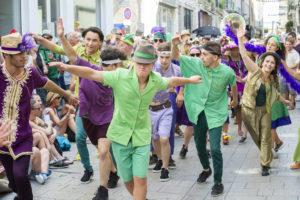 The Po'Boys parade invites the general public to join the Brass Band and their dancers on a march, and even to play a part in their show! The Po'Boys have thought of everything: costumes and rehearsals with the artists, as well as simple songs and choreography to make the parade even more fun and inclusive!
Check out the unique event rules here