Friendly meal in the green surrounds of the Goulet site. After an adrenaline-charged day of sport, relaxation and sharing in deepest nature, this open-air dinner is a chance to talk to the other participants, the residents of Volvic and the volunteers.
Bon appétit! Have a fantastic evening!
---
REPLAY
REPLAY is a band of 5 musicians from the Riom area. This formation, in its current configuration, was born in 2009 but these members all have a significant musical background in different bands or formations in the region. Nadine, on vocals, is surrounded by 4 boys, who share choirs, guitars, bass and drums respectively. REPLAY's repertoire consists of covers or covers, in French and international variety, in an "over-vitamin" pop-rock atmosphere !!!..
---
FLYING TRACTORS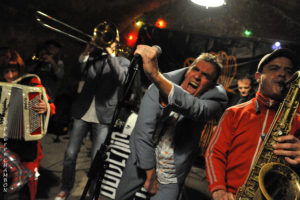 The first tire tracks in the Auvergne sky date from 1994 but the Flying Tractors are of no age. They are out of time and fashion.
All behind Sylvie on the accordion, 9 guys produce rural music simple enough to avoid making a mistake, with texts not too complicated to remember. They cross the countryside at their own pace, face storms, hurricanes, wipe hailstorms, build a morale of steel without sulking their pleasure. Generally, they manage to seduce the farmer and his wife, the teacher and his students as well as the business man and the prisoner of common law.
Their seventh album released in March 2018 is a thorn in your side of Auvergne cultural heritage.
Check out the unique event rules here